CDS Tractor Trailer Training
For nearly two decades, CDS has been providing CDL training in Richmond, VA, West Virginia and Maryland. Their instructors have years of experience in the trucking industry, and they provide their training at ten community colleges throughout Virginia.
Along with training, students also receive job placement assistance.
CDS offers a wide range of training paths for students, whether you're looking to earn your CDL for the first time, or need a refresher course.
CDS Virginia CDL Driving School Training Programs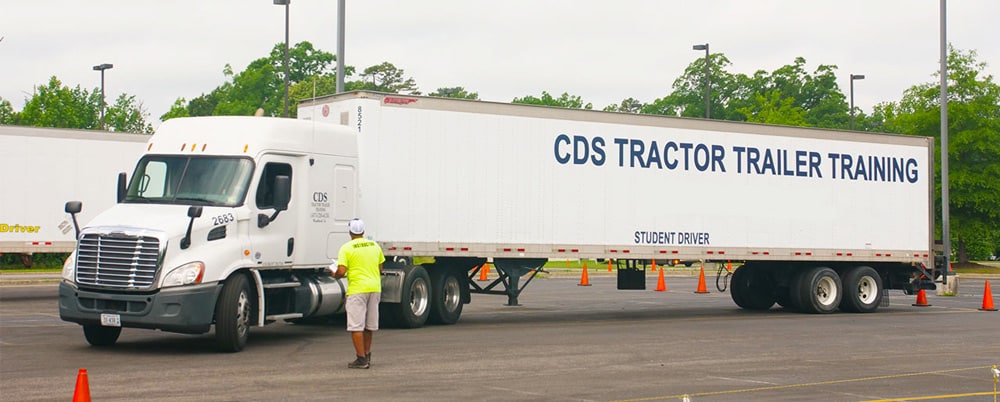 Training is offered at one of the many CDS locations in Virginia:
Eastern Shore, VA
Fredericksburg, VA
Winchester, VA
Richmond, VA
Roanoke, VA
Community Colleges: Central Virginia, Eastern Shore, John Tyler, Germanna, New River, Lord Fairfax, Virginia Western and Rappahannock.
No prior training is required. Most students don't have any trucking experience when they come to CDS.
The school uses advanced training technology, including truck simulators, to give new students hands-on training right in the classroom.
CDL A Training
The CDS CDL A training program runs 20 days/160 hours. Training courses start every two weeks.
Full-time classes run from 8am through 5pm Monday through Friday for four weeks.
Part-time programs are 10 weeks long and run from 8am through 5pm on weekends.
CDS training centers (those not at community colleges) have equipment yards. Travel programs are available at community colleges throughout Virginia.
CDL B Training
Class B CDLs allow you to drive a vehicle with a gross vehicle weight of 26,001 pounds. As a straight truck driver, you can operate:
Large straight trucks
Dump trucks
Utility trucks
Mixer trucks
Tow trucks
CDS students also have the option of adding a passenger endorsement to their license, which would require an additional week of training. The passenger endorsement allows drivers to transport passengers on tour buses, motor coaches, shuttles and city buses.
Upon completion of the training, students will be prepared to take their Class B driving exam.
CDS Class B CDL training runs 15 days/120 hours. Training classes start every two weeks.
Full-time classes run for three weeks Monday through Friday.
Part-time classes run for seven weeks Saturday and Sunday.
Training for a Class B CDL is offered at their Winchester and Fredericksburg training facilities.
CDL Refresher Course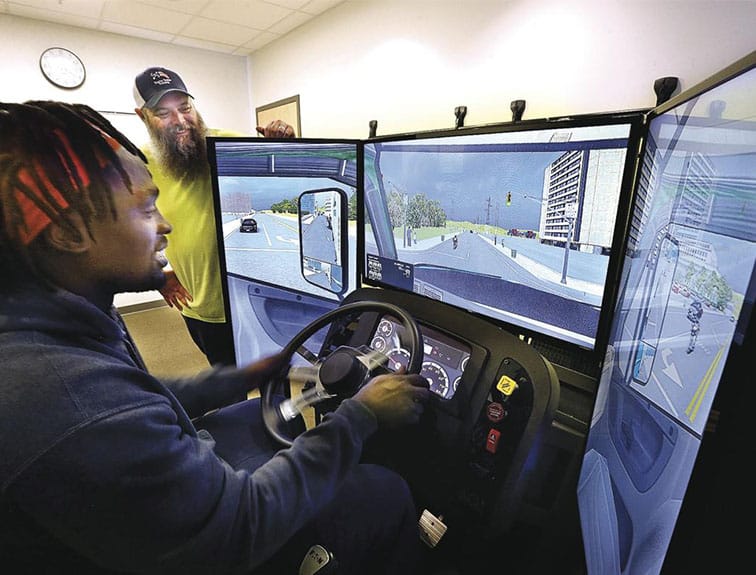 CDS offers refresher courses for Class A and Class B CDL holders. These courses are ideal for drivers who have been away from the industry for a while. You must still have your CDL to be eligible for the course.
The refresher course lasts 40 hours, and it's customized to meet your needs.
If you have been away from the industry for a year or more, most carriers will require a 40-hour refresher course. The training at CDS will satisfy this requirement.
The course will refresh the following skills:
Backing
Shifting
Other road skills
The 40-hour training course is customized to meet your schedule and lifestyle.
Class A refresher courses are available at one of the company's equipment yards. Class B refreshers are only available at the Fredericksburg, VA location.
40 Hour DMV
If you fail your DMV general knowledge exam three times, you must undergo 40 hours of classroom training.
CDS can provide this instruction at one of their facilities. Once the 40-hour program is completed, you will be provided with the documentation you need to take the learners permit exam at the DMV an unlimited number of times.
Training in this course includes vehicle systems, control systems, speed and space management, vehicle inspection, accident procedure and hazard perception.
Classes start on the specified date at the individual training center you'll be attending. Programs last five days and run 8 hours each day. Training is available at all CDS Virginia locations.
If you have previously taken Class A or Class B CDL courses with CDS, this training is provided for free.
Company Training
CDS also works with transportation companies to create and provide specialized training programs for company drivers. This level of personalized training can be provided at one of CDS' locations, or on-site.
The CDS team includes Commercial Vehicle Training Association (CVTA) certified instructors. Material will be taught based on your company's unique needs.
CDS provides transportation and safety training, including:
Industry and fleet testing and training
Pre-trip/vehicle inspections
Adverse/winter driving
Carrier contract
Backing and parking
Entry level driver training
Safety/accident awareness and prevention seminars
Shifting training
Speed and space management
Yard jockey
Air Brake/ABS systems
Company training programs can be designed to meet your needs and carried out at the training location of your choosing.
Tuition Assistance
A career as a truck driver can be rewarding and provide financial security. CDS aims to help as many students as possible obtain their CDL training for as little out of their own pockets as possible.
CDS offers a number of financial options for students who are unsure of how they will pay for their tuition.
The tuition assistance options offered by CDS allow many students to train for free or with very little money paid out of their own pockets. With assistance options, students can focus more on the training and less on tuition costs.
Tuition assistance options include:
Workforce Funding
CDS is a state-approved Workforce Program vendor that offers training resources for qualifying students. Students who have been laid off or are receiving unemployment or SNAP benefits may be eligible for a grant that would cover tuition costs.
Fast Forward Grant Funding
The Fast Forward Grant provides state-subsidized tuition to residents living in Virginia for at least a year. It covers two-thirds of the tuition cost for qualifying residents.
Veteran Funding
CDS is approved for Veteran Educational Benefits. The Virginia State Approving Agency has approved CDS to offer GI Bill educational benefits.
Guaranteed Funding
Every student at CDS is offered a loan regardless of their credit. Over-the-road companies typically offer tuition reimbursement to help alleviate the financial burden of training. Reimbursement is available for students who take out loans and those who pay in cash.
Students are not required to sign employment contracts.
CDS offers a wide range of CDL training paths as well as tuition assistance to help students enter into a rewarding career.