What Are Power Only Loads in Trucking?
Do you have a truck, but no trailer? Power only loads may be a great option for you. Offering flexibility, lower maintenance costs and the opportunity to maximize your earnings, power only trucking is a becoming a popular option for owner operators and fleet owners.
What is a Power Only Load?
A power only load is when a customer needs a truck driver and a truck to haul their trailer full of goods.
Power only trucks have an adjustable fifth wheel that allows it to fit a variety of trailer dimensions and specifications. Depending on the trucker or operator, standard axles or four-axle units may be available.
Power only trucking companies can haul a variety of trailer types, including:
Dry vans
Flatbed or open deck trailers
Shipping containers
Refrigerated trucks
Power only trucking isn't necessarily limited to just one shipment. A team of drivers may be available to handle multiple shipments and more complex logistical needs using a fleet of trucks.
Customers can choose between hiring an owner operator power only with their own authority, or working with a fleet operator for more complex jobs.
Power Only Trucking Companies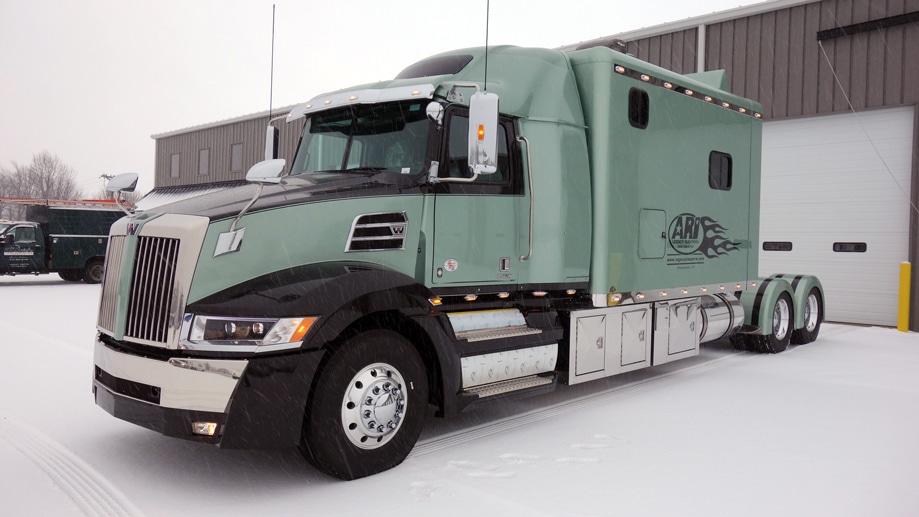 Many trucking companies have power only trucking opportunities, including:
Amazon
The biggest e-tailer in the world works with owner operators and offers power only options. You must have your own authority to partner with Amazon, and you must also meet the following requirements:
Be at least 22 years of age
Have at least one year of experience
Hold a valid Class A CDL
Your truck must be 2001 or newer
Must pass a background check and drug screening
Must have a valid Medical Card
Have a good driving record
Amazon's power only opportunities offer guaranteed gross weekly payments of $4,500 through direct deposit. Drivers enjoy home time every other day and work six days per week. All freight is 100% no-touch.
You'll never run out of work if you can partner with Amazon.
JB Hunt
JB Hunt is a reputable and respected carrier that's been in the business for quite some time. They work with owner operators and fleet owners, and they offer a number of perks for power only drivers:
Fuel savings
Easy document uploading
Direct messaging for easy communication
Check calls
Load requests
Load assignment for drivers (fleet owners)
With JB Hunt, you get reliable miles and the flexibility to request the loads you want. There's no need to hunt down loads either.
Convoy
Convoy makes it easy to take advantage of power only loads. Just hook up to a pre-loaded trailer and get moving.
The company connects drivers to freight from large shippers that aren't normally accessible, and drivers don't have to commit only to Convoy. Drivers can also use their trailers for free.
With the Convoy app, it's easy to find and book power only loads. Once you've booked a load:
Hook to the preloaded trailer.
Drop the trailer or live unload at its destination.
Return the trailer to Convoy.
The app displays the available loads and the pay.
PAM Transport
PAM Transport is a nationwide carrier that has been in business for more than 40 years. They offer power only services for owner operators with their own authority.
The company has a vast customer base that includes Fortune 500 companies. The majority of the freight is no-touch and drop and hook.
PMA also offers:
Flexibility with pay plans
Reliable round trip freight availability
Quick Pay and Advances for faster pay
No brokers – just work directly with PAM
Support group available 24/7
When using QuickPay, carriers are paid within 48 hours of the load being delivered.
Schneider
Owner operators looking for power only loads can work with one of the biggest names in trucking: Schneider. The company has been in business for more than eight decades. The majority of the freight is drop and hook, so drivers spend less time waiting and can cover more miles.
Schneider's power only carriers enjoy:
Free, easy mobile app to book loads anytime, anywhere
Access to thousands of loads per day
The ability to choose whatever loads you want to take
90% or more drop and hook
No-touch freight
Schneider's trailers are well-maintained, so freight is easy and hassle-free to move.
These are some of the most popular companies that offer power only, but most national carriers will have some type of power only option.
Power Only Load Boards
Power Only boards are filled with top-tier opportunities, but you need to find the best companies offering power only loads. While there are many options available, there are two main companies:
Truckstop.com
Truckstop is one of the most trusted names in the industry, allowing truckers to:
Scale their business with a single source
Rate tools are available to help ensure that you always receive the rate you deserve
You choose when and who you want to work with
Filter by broker and see days-to-pay information
Carriers across the country look to Truckstop to help keep their pipelines running and shipments on time. Truckers of all types are in demand, including tanker, reefer, dry van and even flat bed.
An intuitive app helps keep you connected and makes researching and calling about loads effortless.
DAT Boards
DAT is another leader in power only boards and offers a cost-effective way for truckers and drivers to find loads. Owner operators can benefit from a full pipeline of loads to haul with less dead time and more time adding miles to their trucks.
When you choose DAT, you're choosing a resource that helps truckers stay ahead of the competition, with:
Information on 15-day average rates
Rates for 68,000+ lanes
DAT Assurance program
DAT knows that you work hard, and the load board will work tirelessly to ensure that you get paid. DAT is like a partner that works alongside you to make sure that your business can grow.
Advantages and Disadvantages of Power Only Freight
Power Only loads have a lot of advantages and disadvantages:
Advantages
Cost Effective for Brokers. Power only is a more cost effective way for brokers to get shipments moving because there's no need to hire in-house drivers and invest in a fleet of trucks.
Increase Opportunities. Truckers increase their opportunities to stay on the road with less down time.
Trailers Provided. A lot of companies provide trailers, reducing trucker overhead and the need to lease trailers.
Disadvantages
Might Need to Meet Stringent Requirements. Some companies will require minimum days driven per week, mimicking more of a 9-to-5 job than having the freedom to run your own operation freely.
Power only loads are a great way to keep your truck on the road with less downtime and overhead.