How To Get A CDL In Texas
Texas residents that want to get into a lucrative, long-term career are considering life on the road as a truck driver. Anyone who wants to drive commercially, behind the wheel of a big rig, will need to obtain their Texas CDL license first.
Types of CDL Licenses in Texas
Texas has three main CDL classes to choose from, but most drivers will want to obtain their Texas Class A license. CDL license options in Texas are:
Class A: A CDL A license allows the driver to operate vehicles that are 26,001 pounds or higher in gross combination weight. Gross vehicle weight rating (GVWR) of the vehicle(s) being towed must exceed 10,000 pounds.
Class B: CDL B licenses allows for a single vehicle with a GVWR of 26,001 pounds or higher. Towing weight must not exceed 10,000 pounds. Vehicles designed to transport 24 passengers or more are included under this license.
Class C: CDL C licenses are all vehicles that are under the weight requirements of the CDL A and B licenses.
If you plan on driving a big rig, you'll want to obtain your CDL Class A license. Otherwise, you may want to obtain a CDL B for larger buses and smaller trucks, or a CDL C.
Texas CDL Requirements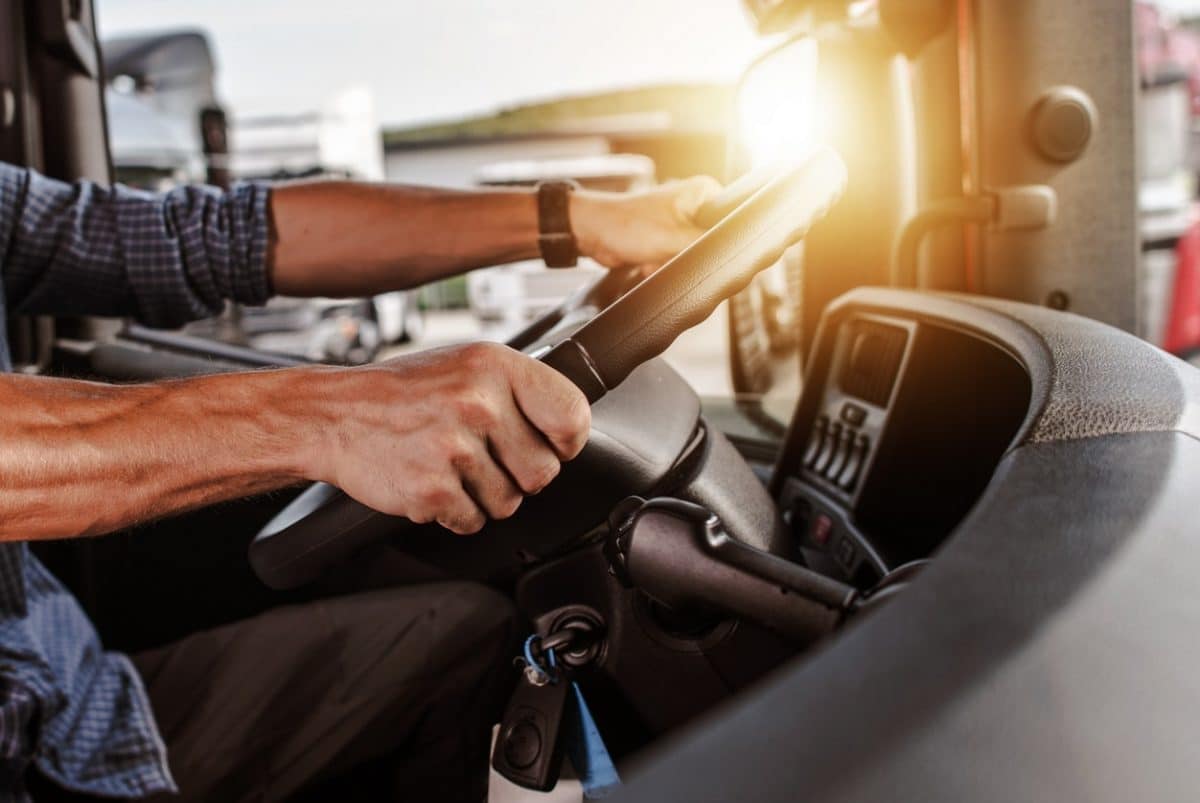 Texas commercial driver's license requirements require that all CDL drivers be 21 years of age (18 for intrastate) and reside in Texas. You must be able to read and speak English, and you must have no:
Impairment that interferes with driving
Heart problems
Respiratory issues
High blood pressure
Conditions that can lead to loss of consciousness
Mental or functional disease that can impact vehicle control
Addiction to drugs
Addiction to alcohol
Vision must be 20/40 or better and a driver must not be colorblind. You must also have not had a loss of limb that has not been waived.
All of these requirements are for an interstate Texas Class A CDL that allows the driver to haul goods across the country.
CDL applicants must obtain their commercial learner permit (CLP) to move forward with their CDL licensing.
Texas CDL Learners Permit Test
A Texas CDL learners permit requires you to have a valid Texas driver license. You will need to obtain your commercial learner permit (CLP) after obtaining your valid driver's licenses. The requirements for obtaining a CLP are:
Proof of Texas residency
Proof of US citizenship or lawful presence
Social Security number (required)
Self-certification of medical status
Medical examiner certificate
Texas vehicle registration for all owned vehicles
Proof of insurance for all vehicles you own
You will need to complete all of the necessary courses and provide all of the necessary documentation outlined above before completing a CDL application.
The next steps after you have your CLP are to:
Visit a driver license office in Texas
Supply the CDL application (required for a CLP)
Provide the documentation listed previously
Pay the fee for application
Provide thumbprints
Take a picture
Pass the vision exam
Pass the knowledge test for the corresponding CDL license and endorsements
Schedule the skills test
Once you've completed all of the above requirements, you can apply for a Commercial Driver License. You will have to hold your CLP for a minimum of 14 days.
After the 14-day period has passed, you'll be able to take the CDL driving test.
You will be required to provide your own commercial motor vehicle (CMV). The vehicle must correspond to the type of CLP that you hold. The school that you attend for your CDL classes should supply the CMV for you.
Note: If an applicant does not meet the physical requirements for a CDL, he or she may be able to apply for a Texas vision and limb waiver. The waiver allows the applicant to obtain an intrastate license.
Applicants may be disqualified from obtaining their CDL in Texas. The disqualification of the application occurs under a few circumstances:
Lifetime ban if you used a motor vehicle in connection with a felony.
60 days up to three years if you have railroad highway crossing violations.
Three or more serious traffic offenses will result in a 120-day ban. Offenses include reckless driving and improper lane changes.
Two serious traffic offenses, following the same guidelines as the previous point, will result in a 60-day disqualification.
Lifetime or a minimum of three-year disqualification for an alcohol violation that resulted in leaving the scene of an accident or a felony while driving a commercial vehicle. The first offense is a three-year disqualification and the second offense is a lifetime ban from commercial driving.
One-year disqualification for drinking and driving and leaving the scene of an accident when driving your own motor vehicle.
A clean driver's license is preferred, but serious offenses may result in you not being qualified to obtain your CDL. If you have any infractions on your license, you can call a local CDL school or the DMV to determine if you're eligible to obtain your CDL license.
Texas Written and Skills CDL Test
A two-part exam is part of the CDL test. You must pass both exams if you want to be approved for your license. The CDL school that you'll attend will help you prepare for both parts of the test and may also offer classes on any endorsements that you may want to obtain.
The test is broken down as follows:
Written. A written exam covers all of the laws of the road and practical education that you'll learn from studying in school. These classes allow you to have a good grasp on federal and state laws when driving with your CDL.
Skills. The skills test will require you to bring your own commercial vehicle, provided by the school you attend, and will require basic handling of a rig. The test is much like the driver's test that you take for your traditional license, but the test is far more advanced and intense.
Texas' commercial motor vehicle handbook is available online and provides a thorough outline of what to expect on each test. A few of the requirements that you'll need to know for testing are:
Cargo and passenger safety
Vehicle inspection test
Basic control skills
On-road driving test
You must pass all of the testing requirements to be able to obtain your CDL. If you fail the test, you will have to apply to take the test over again.
Texas CDL Fees
Applications for your CLP and CDL license will require you to pay fees. Texas' fee schedule can change, so please make sure to check the current fee schedule. The fees at the time of writing this article are:
$60 for a CDL license for five years.
$10 for changes to a license, such as restriction, class, endorsement or type of license.
$24 for the CLP.
$10 for a replacement or duplicate license.
If you convert your Texas driver's license to a CDL, you will be granted a $4 credit for every year remaining on your license. The credit will reduce the total 5-year CDL fee.
CDL Endorsement Options in Texas
Texas has several endorsements, six in total, that allow you to transport different goods or trailers. Additional testing to obtain their endorsements may be required, and a learner permit for the endorsement may be required for up to 14 days.
The different types of endorsement options in Texas are:
School Bus (S): An endorsement required to operate a school bus.
Passenger (P): An endorsement required to operate a vehicle for a certain number of passengers.
Double/Triple Trailer (T): An endorsement to tow a double or triple trailer.
Tank Vehicle (N): An endorsement required to operate a tank vehicle, or a vehicle that carries liquefied or liquid gaseous materials.
Hazardous Materials (H): An endorsement to haul hazardous materials, such as gases, explosives and flammable liquids.
Combination of N and H (X): A combination endorsement for a tank and hazardous material endorsement.
All endorsements will require a knowledge test. You will be required to pass a driving test when obtaining your P or S endorsements.
Searching for a CDL Class in Texas
If you're trying to obtain a Texas CDL license, you'll want to choose a proven school. CDL schools offer the opportunity to practice and learn on new equipment, provide placement options (in many cases) and will help you get on the fast-track to getting your CDL license.
Search for a school in your area by filling out the form below.