Get Your Hazmat Certification with Compliance Training Online
Hazardous materials are all around us. From the construction of buildings to the production of medicine, treatment of water and fueling of our cars, we rely on chemicals for some of life's most important tasks.
Like any other commodity, these chemicals need to move from one place to another to be used in production or for other purposes. The transportation of hazardous materials is inherently dangerous and risky to the public and the environment.
Hazmat certification and training ensures that anyone who hauls hazardous materials is properly trained and uses safe practices.
Who Needs Hazmat Certification?
Anyone who works at a company that handles, ships, transports or receives hazardous materials must complete the DOT's Hazardous Material Safety and Security training. This includes individuals who label, unload and prepare or read shipping manifests.
Truckers who haul hazardous materials must also undergo Hazmat training and certification. These materials are more prevalent than you think, which means many truckers will find that having a Hazmat certification will open up more employment opportunities.
Hazardous materials can include but are not limited to:
Lithium batteries
Gasoline
Turpentine
Medical oxygen
Hand sanitizer
Paint and other construction materials
Adhesives
Vehicle airbags
Lead acid batteries
Improper handling of any of these materials can be disastrous or dangerous. Hazmat certification ensures that drivers are aware of these hazards, how to handle them properly and what to do if something goes wrong.
How Do I Get Hazmat Certified?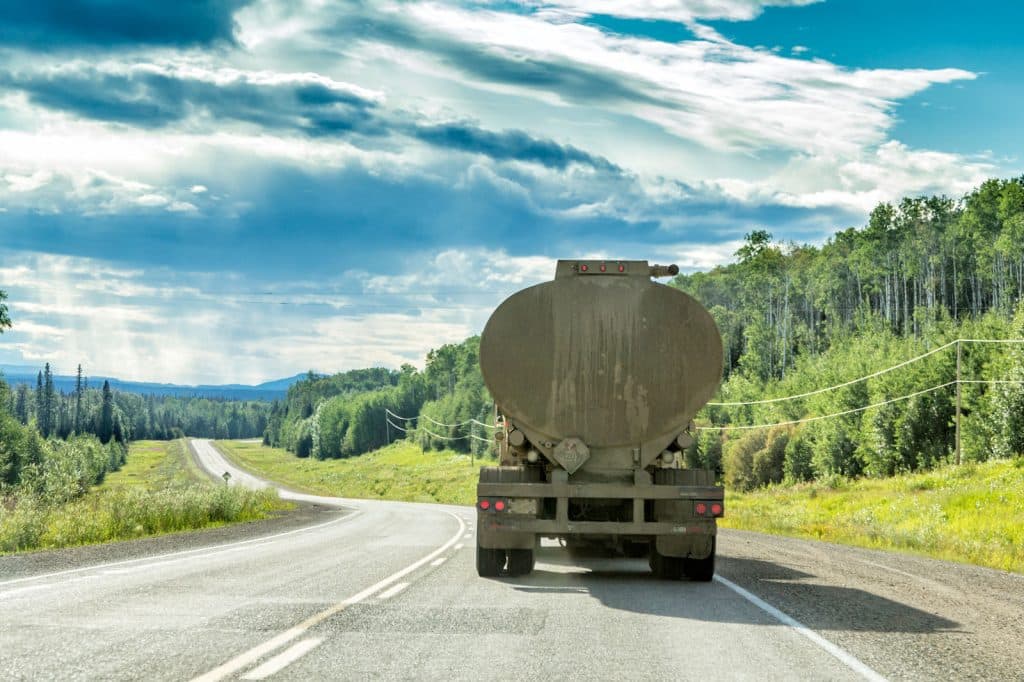 In order to obtain your Hazmat certificate, you must go through specialized training that is conducted by a verified Hazmat consultant.
Both in-person and online training options are available to help you obtain your certification. An online Hazmat class is typically self-paced, so students can go through the training materials when it's most convenient for them.
If you're pursuing certification, you can enroll in a Hazmat school. Some carriers also offer Hazmat training to all of their drivers.
Once you obtain your DOT hazardous materials certification, you will need to go through training every three years (for transportation via ocean or ground) or every two years (for transportation via air).
What Hazmat Certification Training Entails
Hazmat certification training will cover a number of topics to ensure the safe handling and recognition of hazardous materials. These include:
General Awareness
The purpose of general awareness training is to help individuals:
Become familiar with the requirements of the Hazmat Materials Regulations (HMR)
Identify and recognize hazardous materials
Students will learn the following:
Hazardous materials table
Hazard classification system
Placards
Labels, markings and packaging
Security
Shipping papers
HMR training requirements
Segregation
Incident reporting requirements
At the completion of this training, students will know how to identify the nine classes of hazardous materials and regulations that must be followed when transporting and handling them.
Detailed Security Training
The in-depth security module typically comes at the end of the training course. It will cover the company's security plan, including its procedures, objectives and security structure. It will also outline employee responsibilities and what actions to take if there's a security breach.
Function Training
Function training covers the HMR requirements more in-depth, and these are the regulations that must be adhered to by employees. The material that's covered in this training will depend on the company's needs and the employee's responsibilities.
Individuals will learn:
How to perform certain functions safely and efficiently
The hazardous materials regulations to follow while performing specific job functions
Multimodal Training
Multimodal training is essential for employees handling, transporting or shipping hazardous materials by ground, air, vessel or any combination of the three.
Anyone involved in the handling or processing of hazardous materials transported by air, sea or ground must receive multimodal training, as each method of transportation has its own regulations.
Training will cover:
Classification
Packing
Identification
Documentation
Labeling and marking
Placarding
Safety and emergency response information
Safety Training
Safety training will cover the dangers of handling hazardous materials, accident avoidance and the appropriate emergency response to hazardous materials.
Training will ensure that individuals understand:
The level of risk associated with different types of hazardous materials
The safety measures that should be taken when handling these materials
Measures to minimize the risk of accidents
Steps to take if an accident occurs
Security Awareness Training
Security risks are involved with the transport of hazardous materials, and training will include:
Methods of recognizing potential threats
Methods of responding to potential security threats
Training will help you understand all of the security responsibilities and duties associated with hauling Hazmat materials. Security procedures required when performing specific functions are taught. Additionally, the steps that must be taken if a security breach occurs will also be covered in detail so that all security measures are followed to meet the strict requirements of all agencies involved.
Shipping by Ground Training
DOT hazardous materials certification is some of the most sought-after certifications in the transportation industry. The Department of Transportation maintains strict protocols and procedures that must be followed by carriers.
FedEx, UPS and all major carriers hauling hazardous materials must make sure that anyone handling the material is properly trained and certified.
Initial and recurrent training is required, and there is training for:
DOT aviation
DOT driver / CDL
DOT railroad
DOT waterways
Ground training will allow transportation to know how to handle hazardous materials, classify them, assign UN numbers and even label them. In addition, CDL drivers who want to increase their pay and secure their position in the industry will find a Hazmat certification makes them an invaluable asset to trucking fleets.
Shipping by Vessel Training
International Maritime Dangerous Goods, or IMDG training, is also required for shipping by vessel. Hazmat employees who come in contact with dangerous goods must meet the requirements of the IMDG and IMO (International Maritime Organization).
In-depth training requirements do require in-person or online training at least once every three years to remain certified.
Courses will cover general awareness, security awareness and other important training requirements.
Shipping by Air Training
The International Air Transport Association has its own safety standards and regulations for Hazmat employees. Training is designed to meet the requirements of all parties, including UPS and FedEx. Courses will cover all dangerous goods and may include a variety of materials, including:
Explosives
Gases
Flammable liquids
Flammable solids
Oxidizing substances
Organic peroxides
Toxic and infectious substances
Radioactive materials
Corrosives
Lithium battery handling
Miscellaneous
Much more
Why Hazmat Safety Training is Important
Hazmat certification and training is crucial to the safety of the general population and the trucker. Hazardous materials must be handled with the utmost care in every stage, including from production to delivery and everywhere in between.
Strict compliance must be made to reduce the risks of mishaps.
Hazardous materials certification allows includes multiple points that must be followed strictly:
Labeling
Packing
Transport
Etc.
Due to the devastating environmental and potentially life-threatening nature of this material, certification and training are required. Improper handling or transport of this material can come with:
Criminal penalties
Civil penalties
Violations
A single civil infraction can cost $84,000+ per day in fines. Criminal prosecution can result in ten years in prison.
Trucking fleets that plan to haul hazardous materials should have strict measures in place to ensure that their drivers have their DOT hazardous materials certification. Connecting with a Hazmat school will allow for all employees and drivers to be properly trained.