C1 Truck Driver Training has been training drivers for more than 35 years. With three campus locations throughout the country, C1 is a leader in quality training for new drivers, and their courses meet the new Entry-Level Driver Training (ELDT) requirements set by the FMCSA.
Along with classroom instruction, the campuses at C1 Truck Driver Training also have driving ranges that allow students to practice skills in a safe, controlled environment.
C1 Truck Driver Training – Class A, Class B and HazMat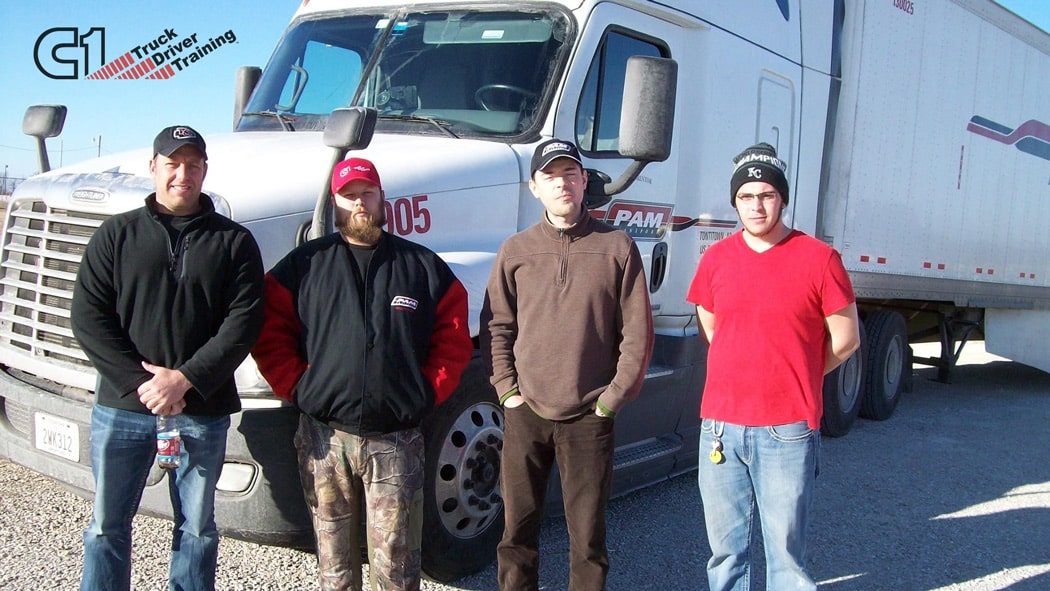 C1 offers instruction for Class A and Class B licenses as well as HazMat theory. Their facilities are staffed by experienced instructors who have worked in the trucking industry.
Class A
C1 offers driver training for Class A CDLs that meets current requirements.
Here's how the Class A training program works:
Classroom training: The program starts in the classroom. Training focuses on the regulations and laws that CDL drivers must follow. It also covers map reading, driver logs, trip planning, basic vehicle controls and more. Interactive presentations and videos are used to cover the topics.
Hands-on training: Next, students move to the school's driving range for hands-on training. The driving range allows students to master skills in a tractor-trailer, including backing techniques, turning and shifting.
Street training: Next, students take their skills to the road. Certified instructors will accompany students as they put their skills to practice on local streets and highways near the campus.
Once completing these three phases, students will be prepared to take the CDL A test.
Class B
C1 also offers training for Class B licenses. The in-person, two-week course is available at any C1 campus location. Class sizes are small to ensure all class requirements are met and students can master the hands-on skills needed to comply with Entry-Level Driving Training (ELDT).
A Class B License allows you to operate:
Buses
Dump trucks
Straight trucks
Garbage trucks
Delivery trucks
Cement mixers
HazMat CDL Training
Along with Class A and Class B training, C1 also offers a HazMat theory online. The course meets the requirements for the theory instruction drivers need to take the knowledge test.
The course consists of 12 units that cover compliance and safety information. Students are quizzed after each unit and at the end of the program. To pass the course, students need to obtain a score of 80% or higher.
Those who pass the test will be permitted to take the official knowledge test to obtain a HazMat endorsement.
C1 Trucking School Locations
C1 has several locations to meet the needs of aspiring drivers. Currently, the school has campuses in Indiana, Texas and Missouri.
Indianapolis CDL Training
C1 is one of the most well-known Fort Wayne CDL schools and the largest truck driving school in central Indiana. The campus has a driving range that spans 12 acres, giving students plenty of space to practice their driving skills.
Fort Worth CDL Training
C1's Fort Worth training center is centrally located and offers separate locations for classroom and driving portions.
The on-site driving range gives students a place to practice their basic skills. It also offers picnic tables for students to relax during breaks or study materials in groups.
Springfield CDL Training
C1's Springfield, MO campus has a multimedia-based interactive classroom and instructor-led lectures. The facility also has a study area, lounge and advisors on hand to answer questions.
The closed driving range allows students to practice their skills.
Admissions Options for Class A and Class B Training
C1 offers a number of admissions options for students seeking CDL Class A and B training, including:
Tuition assistance: Students may qualify for financial assistance for their training through local, state or federal programs. VocRehab, WIA benefits and other grants may be available.
Tuition reimbursement: Many trucking companies will reimburse their employees for their driver training.
Company-sponsored: Trucking companies may agree to pay for training if you commit to working for them for at least 12 months.
The admissions team at C1 can help you find options for paying for your training.
C1 Driver Job Placement and Planning
The team at C1 works with students all throughout the training process to help ensure they're on the right track to meet their career goals.
Before you begin your training with C1, their staff will help determine the best entry-level job opportunities to help you meet your career goals. Students who have a plan for their careers are more likely to succeed when searching for a job.
During the training period, the staff at C1 will help students identify job opportunities. In addition, their team has connections with local and major trucking companies to help students find employment opportunities.
C1 also offers lifetime placement assistance. They will help former students find subsequent driving jobs long after they've graduated.
C1 Truck Driver Training is committed to ensuring that their students succeed and reach their career goals. They have trained thousands of students over the years, and will continue to deliver first-class training in the transportation industry.