If you're considering a career as a trucker but don't have your CDL yet, Roehl's training program may be a good option for you. Their company-sponsored CDL program allows students to obtain their CDL and additional training tuition-free.
Let's take a closer look at what this program is and has to offer.
Roehl GET YOUR CDL Training Program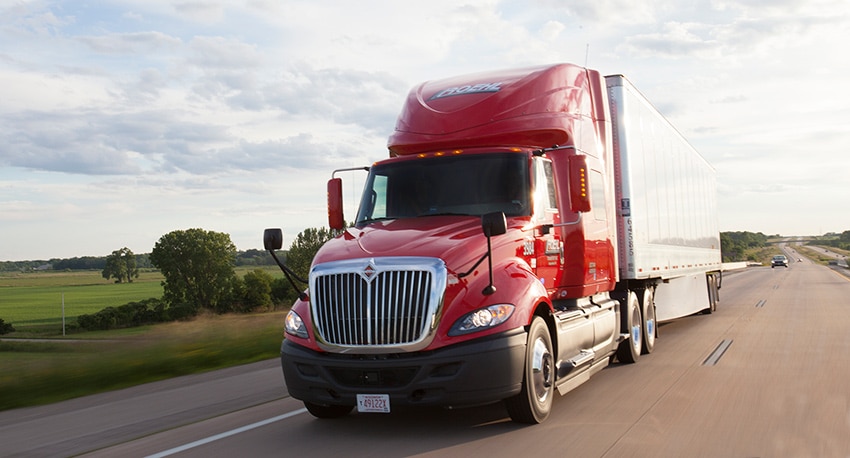 Recognizing the trucker shortage and demand for new drivers, Roehl launched its company-sponsored CDL training program. Roehl's GET YOUR CDL training program is more than just a training program – it's a job.
When students sign up for the program, they become a full-time employee with Roehl. Rather than paying for tuition out of pocket, you get paid to train for your CDL.
Students only have to pay to obtain their commercial learner's permit, or CLP.
What's the Catch?
Free training sounds too good to be true, especially when trucking schools charge thousands of dollars in tuition to help students get their CDLs.
But with Roehl, you really do get free training as long as you hold your end of the bargain – to work for the company.
Because this is a company-sponsored program, you will need to agree to work with the company for a certain period of time after training is complete. Roehl asks students to commit to 15 months (about 120,000 miles as a solo driver) to the company after completing their training.
If you bail early and leave to work for another trucking company or switch careers, you will be on the hook for the cost of your training (which could be as much as $7,000). So, make sure that you're 100% committed to holding up your end of the agreement before you sign up for this program.
Roehl Training Locations
Roehl offers local CDL training, which means that drivers must live within their hiring area to be considered for employment.
Roehl Transport Marshfield Headquarters in Marshfield, WI
Roehl Transport Appleton Terminal in Neenah, WI
Roehl Transport Atlanta Terminal in Conley, GA
Roehl Transport Chicago Area Terminal in Gary, IN
Roehl Transport Phoenix Terminal in Phoenix, AZ
Roehl hires in the following states: Arizona, Arkansas, Alabama, Connecticut, Indiana, Georgia, Massachusetts, Kansas, Missouri, Mississippi, Minnesota, Michigan, Maine, New Mexico, New Hampshire, New York, Oklahoma, North Carolina, Ohio, Rhode Island, Pennsylvania, Texas, South Carolina, Tennessee, Vermont, Utah, Wisconsin and Virginia.
Roehl Trucking School Qualifications
Like any other CDL program, there are specific requirements that must be met to start training. Students must meet the following qualifications to be hired and train with Roehl:
Be at least 21 years of age
Be able to read, write and speak English
Have a driver's license in the U.S. or Canada for at least two years
Have a good driving record
Pass the DOT's physical and drug tests
Have a verifiable work history
All drivers must be certified by a DOT-approved doctor before working with Roehl. The drug test portion includes both follicle and urine tests.
You must obtain your CLP first before you will be given a start date for the training program.
What Should You Bring to Training?
Roehl recommends bringing the following items to training:
Driver's license
Social Security card
Travel documents
Notebook and pen
Flashlight
Voided check
Before training, get in touch with your recruiter to get a full list of items to bring to training.
Why Train with Roehl?
Roehl has been around since 1962, and today, they are one of the leading trucking companies in the industry. They have more than 2,900 employees, 2,250 tractor trailers and 5,200 trailers.
CEO Rich Roehl still drives to this day, and the company is committed to its employees.
The company is also known for its safety culture. In fact, they have the most advanced safe driving program in the industry.
Drivers have the final say when it comes to road conditions. If they feel unsafe, they don't drive – period.
They've won the Truckload Carrier Association's Annual Fleet Safety Grand Prize twice.
They've also won the American Trucking Association's President's Trophy Award three times.
Driving for one of the safest trucking companies out there can give drivers peace of mind.
But before you can start the training program with Roehl, you will first need to obtain your CLP.
Obtaining Your CLP Before Training with Roehl
Before you can enter the CDL program, you must first obtain your CLP. While every state will have its own requirements for CLPs, generally, you will need to pass a written exam that covers:
Safe driving techniques
Transporting cargo
Air brakes
Combination vehicles
Before obtaining your CLP, you'll need to pass the DOT physical and drug tests.
How Long Is Roehl Training?
Training for a CDL takes time, and Roehl's program is no different in this regard. Roehl's trucking school has three phases:
Phase 1 – 3 Weeks
The first phase of training lasts three weeks and will cover:
Basic controls
Control systems
Vehicle inspections
Speed management
Space management
Docking/backing up
Turning
Accident procedures
Coupling/uncoupling
Hazard prevention
Communication systems
Atlas use and trip planning
Students learn these skills using the same equipment they'll be using out on the road. During the first phase of training, students earn $616 when working a full week. The first paycheck will be distributed at the end of week three.
Instructors train just three students at a time. Testing for the CDL will take place during the final week of training.
Phase 2 – 19 Days
In the second phase, you'll undergo on-the-job training with a Certified Driver Trainer and work with actual freight. Students get a taste of life on the road and sleep in their trucks just as they would on a real run. Along the way, trainers provide feedback and teach vital skills that students will need to make successful runs.
During this stage of training, students will earn $112 per day. At the end of the stage, students will confirm their skills.
Phase 3- 1 Month (On Average)
In the final training phase, students are given their own trucks to operate and will be paid based on mileage. During this stage, students work with a fleet training manager whom they will talk to over the phone each day. Fleet training managers help students master the finer points of the job.
Students are paid the week after work is completed.
Training for the CDL itself lasts three weeks (the first phase), but you'll continue training with trainers and managers to help you get started on the right foot.
What About Travel, Meals and Lodging?
During training, Roehl will cover the cost of lodging and most meals. Those who have attended training say that both the meals and lodging were more than adequate.
Contact your recruiter to find out whether travel to and from the training location is covered by Roehl.
Do You Have to Attend Roehl's CDL Program?
What if you found a trucking school that interests you, but you still want to work for Roehl. Do you have to get your CDL through their program? No.
The company works with many truck driving schools, and company drivers are free to receive their training from a different program.
Benefits and Home Time as a Company Driver
According to Roehl, students who complete their program and become a company driver are well on their way to earning $70,000+ per year.
The company says drivers average $1,500 per week, or $78,000 per year.
Pay includes:
Tarping and untarping
Intermediate stops
Detention time
Layover day
Secondary load
Refrigerated modular unload
Canada pay
Long Island and New York pay
Short-haul pay
In addition to competitive pay, drivers also enjoy a comprehensive benefits package and home time.
Benefits include:
Health, vision and dental insurance
Long-term disability
Short-term income protection
Life insurance
401(k) and profit-sharing contributions
Vacation time
Flexible spending accounts
Holidays
Voluntary benefits
Roehl also has HOMEtime Plus fleet options that include:
14/7: Drive for 14 days and get one week off.
7/4-7/3: Drive an average of 120 days a year and be home every other week. Drive 7 days with 4 days home and another 7 days with 3 days home.
7/7: Drive 7 days and get 7 days off. That's a total of 26 weeks off per year.
Daily: Local drivers are home every day.
Roehl also has passenger and pet programs, so you can bring a spouse or furry friend along for the ride. These programs are available after six months of employment.
Roehl's CDL program is generally well-rated by drivers, and most enjoy working for the company. Competitive pay, a culture of safety and a solid reputation in the industry make it a great company to work for if you want a stable career as a trucker.