If you're considering a career as a trucker, you may be wondering whether Amazon Career Choice can help with your CDL training. The Career Choice program offers many opportunities for individuals who want to advance to higher-paying careers, including trucking.
Let's take a closer look at CDL training for Amazon and its Career Choice program.
What is Amazon Career Choice?
Amazon Career Choice is a program for the company's employees that helps them earn certificates and degrees that they may not have been able to obtain otherwise.
Career Choice is, in a nutshell, a pre-paid tuition program for hourly employees of Amazon.
The company launched Career Choice in 2012, and since then, more than 500 employees across the globe have received training for high-demand careers, including:
Commercial truckers
Aircraft mechanics
Medical assistants
Nurses
More
In 2022, the company expanded this program in the U.S. to cover the full cost of tuition for employees. Hundreds of schools across the country are now participating in the program.
Along with undergraduate degrees, the program also helps fund certifications for GEDs, high school completion and ESL proficiency.
The Career Choice program is available for hourly employees who have been with the company for at least 90 days. As long as the employee remains with the company, they will have access to Amazon's annual education fund.
Since the program's inception, Amazon has built more than 110 onsite classrooms so that technical schools and other colleges can teach employees at fulfillment centers. The convenience makes it even easier for Amazon employees to get the training they desire.
Does Amazon Pay for CDL Training?

Thanks to the Career Choice program, Amazon can pay for your CDL training. However, it is important to note that the company will only cover the cost of training at partnering schools.
In other words, you cannot choose any school you want. The training facility must participate in the Career Choice program. But it's worth the effort to choose one of these schools because you may receive full or partial tuition assistance from Amazon.
A career in trucking will reward you with:
Excellent pay
Retirement benefits
Medical, dental and vision insurance
Job security (truckers are in high demand, and there's a shortage of skilled drivers)
Vacation time
Life insurance
Schools That Accept Amazon Career Choice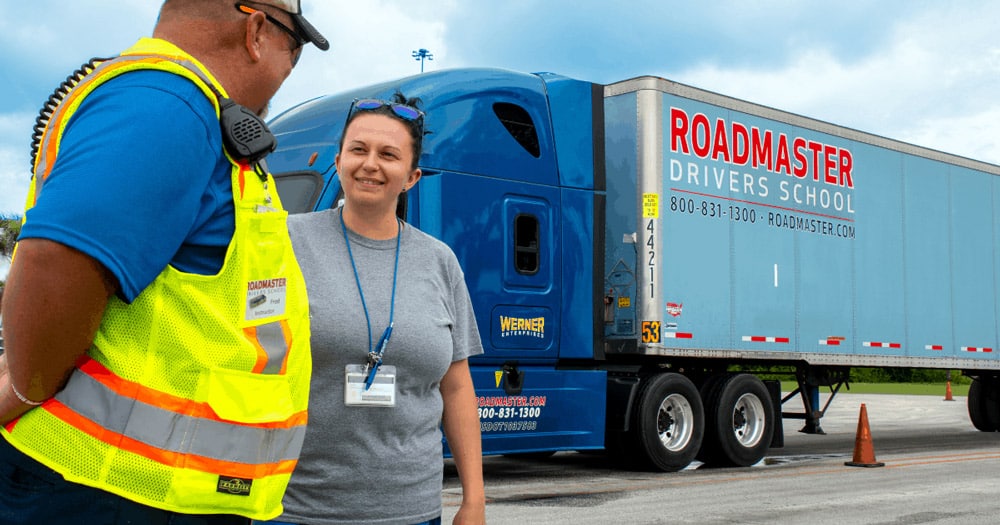 There are several truck driving schools that participate in the Amazon Career Choice Program. These are schools that offer quality training from experienced instructors.
Some of the many facilities that offer training through the program include:
Roadmaster
Roadmaster Drivers School is a Career Choice Partner and a respected truck driving school. The institution has been training students for more than 30 years and has over 160,000 graduates. They have multiple campuses throughout the country which offer classroom and hands-on training.
Training at Roadmaster includes:
Pre-trip inspection training to ensure that you pass this test.
Hands-on driving at their practice facility and on the road to test your skills in real-world traffic scenarios.
Trip planning, map reading and compliance with the DOT's laws.
Skilled maneuvers, such as hooking/unhooking, backing and turning using the industry standard 53-foot trailer.
Space management and how to operate your truck safely.
Emergency protocols.
Control systems and malfunction diagnosis.
Roadmaster's CDL program takes approximately one month to complete and is ELDT compliant.
In addition to training, Roadmaster also assists with job placement.
Many Roadmaster students go on to a career with Werner Enterprises, which has been in business since 1956.
Amazon Career Choice will cover 100% of Roadmaster's tuition. Associates will only be responsible for covering out-of-pocket costs for their DOT physical, drug screen, background check, and testing and licensing fees.
Roadmaster has training schools in the following states:
Texas
California
Missouri
Georgia
Pennsylvania
South Carolina
Alabama
Ohio
North Carolina
Mississippi
Florida
Tennessee
Oklahoma
Nebraska
Arizona
How to Apply for Training Through Career Choice
Log in to the Career Choice website, and apply for a voucher for Roadmaster school.
Print and sign the voucher.
Schedule an interview with an Admission Advisor at a location near you.
Your advisor will walk you through the steps of enrollment.
SAGE
SAGE Truck Driving Schools have been in business since 1989. The organization has more than 25 locations across the country.
The school is known for its "One Student per Truck" approach to training. They also offer:
Flexible scheduling
Job placement assistance
Online learning options
Training at SAGE schools is designed to meet ELDT standards, which is necessary for new drivers with no experience. Training lasts 150-16 hours and includes classroom and hands-on instruction that cover important topics like:
Pre-trip inspection
Defensive driving
Coupling
Turning and backing up
City driving
Air brakes
Mountain driving
Their "truck labs" facility helps students practice inspections. They cover more than 100 items that need to be checked on a standard tractor-trailer.
Once training is complete, students will be scheduled for their CDL tests and will even be able to use a SAGE truck to complete the exam.
Students who are entering the school through the Career Choice program will enjoy the benefits of flexible class schedules. Online learning options are available through the ProDriverU platform, which is self-paced and allows students to study whenever it's most convenient for them.
Classroom training generally takes no more than five days, and driving sessions are scheduled in 4-hour blocks. Students can go through this training at the school's driving range or on public roads.
Amazon Career Choice pays 100% of SAGE's tuition up to $5,250. Students will only have to cover the cost of the DOT exam, licensing fees, drug screening and test fees.
It's important to note that students will need to get their CDL permit before they can enroll in the school. However, the school can help with this step by offering training materials.
SAGE has more than 21 schools throughout the U.S., including those in:
Pennsylvania
New York
North Carolina
Indiana
South Carolina
Florida
Texas
Colorado
Wyoming
Montana
Utah
Idaho
How to Apply for Training Through Career Choice
Log in to the Career Choice website, and apply for a voucher for SAGE's CDL program.
Print and sign the voucher.
Schedule your DOT drug screening and physical exam.
Enroll in the program and start studying for your permit.
Obtain your permit and start training for your CDL.
Toronto Truck Driving School
Toronto Truck Driving School (TTDS) is one of the most trusted driving schools in Canada and has been in operation for over 30 years. The company is proud to be a part of the Career Choice training team and helps Amazon employees upskill to find a career that they enjoy.
TTDS has a five-week tractor-trailer driving program, which allows you to:
Drive any tractor-trailer combo
Drive Class D vehicles
Drive Class G vehicles
Once you finish the program, you'll have the option to drive vehicles that have a total gross weight of 4,600 kilograms or more.
During your training, you'll learn integral skills necessary to haul goods for Amazon partners. Training will include multiple areas, such as:
Basic vehicle operation and maneuvering so that you're confident behind the wheels of a big rig
Equipment performance and environmental condition impacts on this performance
Safe operation practices and rules that help make you safer on the road
At the end of the program, you'll learn the skills necessary to enter the transportation sector. In total, the course will be 4 –5 weeks in length, but it is very intensive and lasts for a total of 103.5 hours.
Graduating from the program will result in you receiving the following:
103.5 hours of robust training
TTSAO certification
Class AZ license
The TTSAO certification ensures that you are an insurable driver and can be insured by all major insurance companies in Canada.
If you work for Amazon and are considering their Career Choice program, you will need to meet the following criteria:
Valid Class G or greater license
Grade 10 or equivalent English fluency
Complete Aptitude testing through the Ministry
Anyone who meets the criteria above will have the option to begin training with the Toronto Truck Driving School by filling out the form on the company's website. You will need to speak to one of the company's representatives and obtain a TTDS-Amazon submission ID to complete the form.
Amazon CDL Driver Pay
Driving for Amazon is a choice that many truckers make due to the ability to haul for the world's largest retailer. CDL drivers make $57,500 per year on average or about $28 per hour that they're on the road.
Salary ranges for these drivers are between $26,000 and $86,000.
Different cities do pay these drivers more, including the following:
Green River, WY offers a salary of $69,400
Richmond, CA offers a salary of $68,900
Stamford, CT offers a salary of $68,100
Amazon CDL drivers are some of the best-paid in the company. Top earners can make $78,000 or more per year hauling for the company. One of the key things to remember is that many of these drivers are home daily, so you'll make these great wages without needing to miss out on valuable family time and stay on the road all week.
Amazon Truck Driver Jobs
Amazon CDL jobs are available through multiple third parties. You'll find a lot of DSP positions available, but these are box truck positions that are available through third parties that have agreements with Amazon.
Instead, working as an Amazon Freight Partner allows you to:
Work for an Amazon Freight Partner
Make good money
Work for a company that offers job security
You can also become an Amazon Freight Partner. Becoming a "partner" is a low startup cost starting with prices of just $40,000 and $0 upfront for Amazon-branded rigs. The estimates regarding these costs are for 5-day cabs to get started.
The ability to become a partner comes with long-term growth and best-in-class training.
Amazon Freight Partners have the option to make an impact in their community by creating jobs and running their own businesses. You don't need a truck or even trucking experience to get started.
Full-time positions working for partners often require:
21-year of age or older
Valid Class A CDL
2+ years of experience
Ability to speak, write and read English
Clean motor vehicle record
Pass background check
You're likely to find Amazon CDL positions available in your area. Compensation will vary from one state to another, but many positions provide daily home time, team environments, great benefits and competitive wages.