If you're considering a career as a trucker in California, you may be wondering how much you'll earn. With California's high cost of living, you may assume that drivers get paid more than those in other states. But do they really earn that much?
What is the average truck driver salary in California, and where can you find the highest paying trucking jobs in the state?
The Average California Truck Driver Pay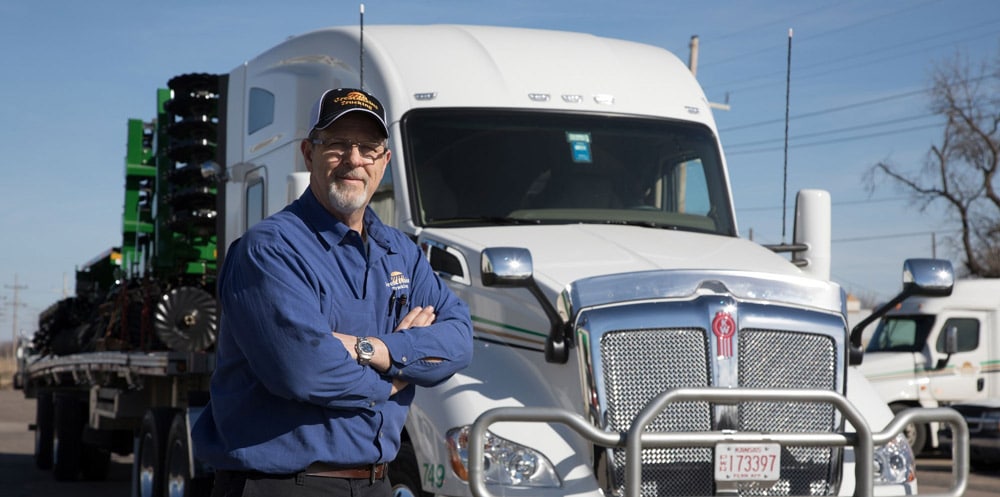 How much do truckers really make in California? Plug this question into Google, and you'll get a lot of different answers. Let's take a look at data from some of the top sources of salary information.
BLS says the mean annual wage is $51,400
Indeed.com says the average salary is $71,684
Salary.com says the average annual salary is $62,218
All of these resources are credible and reliable, but they paint different pictures about trucker earnings in California.
The Average Truck Driver Salary in California
As you can see, there's quite a big difference between the three figures above. But we can take the average of these three numbers to get a broad idea of how much California truck drivers earn.
(51,400 + 71,684 + 62,218) / 3 =
$61,767
So, if California's average truck driver salary is $61,767, how much are high-earning truckers making?
High Paying Truck Driving Jobs in California
Your location and employer will both play a big role in how much you earn while driving in California. Some locations in the state pay significantly more than others.
According to Indeed.com, the top paying cities for truckers in California are:
Fontana: $72,483
Stockton: $71,964
Bakersfield: $71,791
Sante Fe Springs: $71,562
Riverside: $70,886
Los Angeles: $70,705
Fresno: $70,298
Ontario: $69,355
San Diego: $68,688
What about companies? Some pay more than others. Companies that reportedly have the highest salaries for California drivers are:
Werner: Drivers report earning $48,722-$55,624 per year
Ryder: The average reported salary is $57,752 per year
Knight Transportation: Reported salaries range from $40,473-$77,539 annually
J.B. Hunt: Drivers report earning between $47,431 and $51,260 per year
Factors that Affect Truck Driver Salaries in California
Like any other job, a combination of factors will affect your pay as a trucker, with the main ones being:
Location
Operating mode (solo, team or owner operator)
Experience
Route type
We already discussed locations and which ones offer the highest pay, but what about these other factors?
Solo, Team or Owner Operator
Working as a solo company driver, team driver or an owner operator will affect your salary.
According to Indeed.com, here's what truckers earn based on their operating mode:
Solo: $0.37-$0.60 per mile. At an estimated 3,000 miles per week, drivers would bring in $1,239 per week. That's about $64,428 per year.
Team: $0.49-$0.75 per mile. At an estimated 6,000 miles per week, drivers would bring in $3,421 per week, but keep in mind that the cents per mile are split.
Owner operator: $1.22-$1.75 per mile. At an estimated 3,000 miles per week, drivers would bring in about $4,162 per week, or $216,424 per year. It's important to remember that owner operators are business owners and are responsible for the costs of maintaining their rigs and running a business.
While owner operators can certainly earn more than company drivers, you do have to factor in the costs of:
Buying or leasing a truck
Truck maintenance
Managing your own schedule
Taxes
Regular business expenses
Owner operators spend an estimated $0.10-$0.15 per mile on maintenance.
Years of Experience
Of course, your experience level will play a big role in how much you earn as a trucker anywhere in the country.
Here's how much truckers earn in California based on their experience level:
Rookies: $67,309/year
6-9 years: $76,537/year
10+ years: $80,942/year
The more experience you have, the higher your salary. According to Payscale, drivers in Los Angeles with 20+ years of experience earn an average of $25.50 per hour compared to rookies who earn $19.69 per hour.
Route Type
California trucker salaries also vary based on route type. For example, over-the-road (OTR) drivers generally earn more overall, but they get less home time.
Here's what each route pays based on current salary data:
Local: $0.43-$0.66/mile
Regional: $0.37-$0.55/mile
OTR: $0.39-$0.55/mile
Although it may seem like local drivers earn more, they average about 500 fewer miles than OTR drivers. However, they do get more home time. Most local drivers are home every night or most nights of the week.
Skills
Your skills will also affect your salary. The skills with the greatest impact on trucker salaries are:
Safety – Safe drivers can earn 18% more than their peers
HAZMAT – This endorsement can boost your salary by 13%
Getting a HAZMAT endorsement and practicing safe driving skills can help you boost your salary.
How Does California Pay Compare to Other States?
California is among the highest paying states for truckers in the U.S. However, according to BLS, It's not the top-paying state.
Data from the organization shows that truckers in the following states generally earn more than their California peers:
Alaska. Drivers here earn an average of $59,700 per year or about $28.70 per hour. Those in the 90th percentile earn about $82,000 per year.
District of Columbia. Drivers earn about $55,360 per year in DC.
New York. Notorious for its traffic, New York truckers earn about $55,280 per year, or about $26.58 per hour. Truckers in the 90th percentile earn about $82,000 annually.
Wyoming. In this state, truckers earn an average salary of $54,990 per year. Top earners bring in about $78,000 per year.
North Dakota. Truckers here earn about $54,550 per year. The highest paid truckers make about $71,000 each year.
Among the top paying metropolitan areas, the San Francisco-Oakland-Hayward areas of California rank among the highest. According to BLS, truckers here earn an annual mean wage of $57,790.
The top paying metropolitan area is Barnstable Town, MA, where truckers earn an average of $65,170 per year.
What About the National Average?
According to BLS, California truckers earn more than the average trucker in the U.S.
National average: $48,710
California average: $51,400
Generally, California truckers earn more than the national average across all percentiles.
National Wage Estimates
10%: $30,660
25%: $37,850
50%: $47,130
75%: $58,010
90%: $69,480
California Wage Estimates
10%: $31,860
25%: $39,710
50%: $49,570
75%: $61,570
90%: $74,520
Overall, drivers in California earn more than drivers in other states. Factors such as your location, experience, skills, route type and operating mode will all impact your annual salary. Working in the highest-paying cities for the top paying companies can help you maximize your earnings. Obtaining a HAZMAT endorsement and practicing safe driving habits will further help you increase your salary as a California trucker.